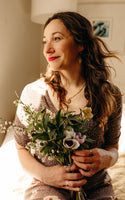 THE HANDS BEHIND THE JEWELRY.
Hi. My name is Anita. I'm the maker here at Little Paper Crane.
I absolutely love making things beautiful, and using my hands to create. Out of that combined love, Little Paper Crane was born. I hope that you find something here that brings you a spark of joy.
I am so, so grateful to have your attention for a moment, thank you for stopping by.